We made some delicious fat bombs today in a variety of flavors and wanted to share the recipes! I've included the links for those that we borrowed from other websites, but often times I find inspiration and then change them depending on my mood or what I have in my kitchen.
Check out the video on Facebook HERE
It's good to remember that fat bombs use three types of ingredients:
A fat base
a flavoring/sweetener
A mix in
Start with these things and you are on your way! Here are three recipes that are sure to please!
No Bake Brownie Bites
Source: https://cassidyscraveablecreations.com/keto-no-bake-brownie-bites-gluten-free/
Fat bombs can be difficult to transport as they need to be kept chilled, we thought we would start with a recipe that keeps a little easier and could be thrown in a lunch box!
1/2 C almond butter
2 Tbs cocoa
1/4 C Lilly's chocolate chips
1/8 tsp sea salt
1/8 tsp vanilla
1 C nuts
1/4 C monkfruit powder (or sweetener of choice)
In the bowl of a food processor add the walnuts and sea salt. Process until walnuts are finely ground.
Add the cocoa powder, nut butter, vanilla, and Monkfruit (or sweetener of choice) and process until well combined and batter starts coming together.
Depending on the thickness of your nut butter you may need to add coconut flour to help bind everything together. If so, add the coconut flour 1 Tbsp. at a time, and process until well combined, until you achieve the right consistency. (if you add too much flour, just add in a splash of non-dairy milk)
Pulse in the chocolate chips.
Line a baking sheet with parchment paper.
Roll the dough between the palms of your hand to form small balls and place on the parchment paper.
Place the baking sheet in the freezer for 10-20 minutes or until firm.
Store in a sealed baggie or container in the refrigerator.
Candy Mold Fat Bombs
Candy Mold Fat Bombs
This is my go to recipe at home. I'm not sure where I originally saw it, but it has definitely taken on it's own personality in my kitchen. I like using little candy molds for mine, I can just pop one out and eat it as I go about making dinner or if I need a mid afternoon pick me up to keep my brain focused. If you have trouble sleeping through the night, try popping a fat bomb before bed! The fat will sustain you through the night and give your body the energy it needs to clean and repair.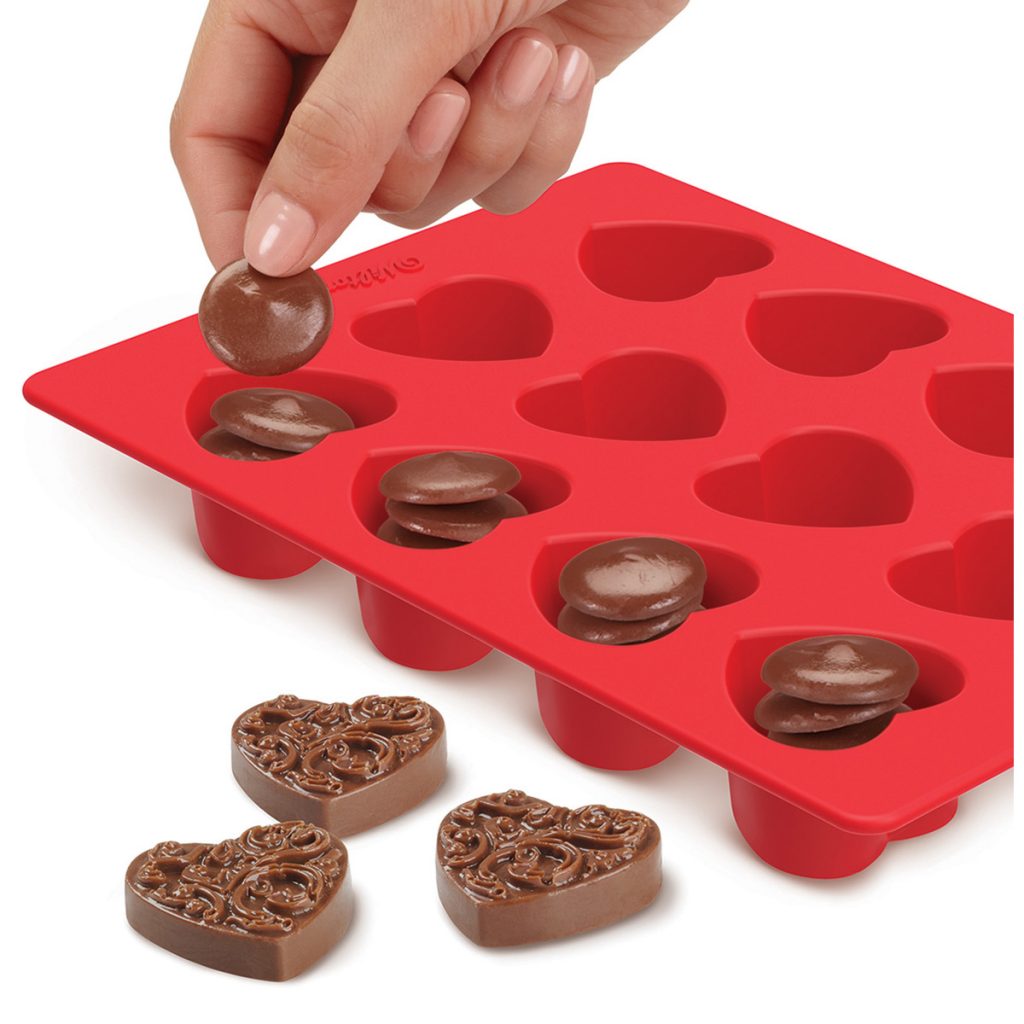 1/4 C coconut oil (melted)
2 Tbs cocoa
2 Tbs creamy or chunky almond butter
Add Ins:

coconut (unsweetened)
nuts (not peanuts)
mint
orange zest
lemon zest
cinnamon
seeds (chia, sunflower, etc)
Combine everything together in a bowl and spoon it into an ice cube tray or candy mold. Refrigerate or freeze until solid. Pop one out and enjoy!
Savory Avocado Bacon Fat Bombs
Source: https://ketodietapp.com/Blog/lchf/Bacon-Guacamole-Fat-Bombs
A lot of fat bombs are sweet, so we wanted to include a savory option that didn't include a ton of dairy. The good fat in this one is from the bacon AND the avocado AND the butter. A triple whammy of delicious flavors!
1/2 large avocado
1/4 cup butter or ghee (softened)
2 cloves garlic, crushed
1 small chili pepper
1/2 small white onion, diced
1 Tbs lime juice
1/4 tsp salt
black pepper or cayenne pepper to taste
1-2 Tbs fresh cilantro, chopped
4 large slices of bacon
Preheat the oven to 190 °C/ 375 °F. Line a baking tray with baking paper. Lay the bacon strips out flat on the baking paper, leaving space so they don't overlap. Place the tray in the oven and cook for about 10-15 minutes until golden brown. The time depends on the thickness of the bacon slices. When done, remove from the oven and set aside to cool down.
Halve, de-seed and peel the avocado. Place the avocado, butter, chili pepper, crushed garlic, cilantro and lime juice into a bowl and season with salt and pepper.
Mash using a potato masher or a fork until well combined. Add the diced onion and mix well.
Pour in the bacon grease from the tray where you baked the bacon and mix well. Cover with a foil and place in the fridge for 20-30 minutes.
Crumble the bacon into small pieces and prepare for "breading." Remove the guacamole mixture from the fridge and start creating 6 balls. You can use a spoon or an ice-cream scooper. Roll each ball in the bacon crumbles and place on a tray that will fit in the fridge.
Eat immediately or store in the fridge in an airtight container for up to 5 days.